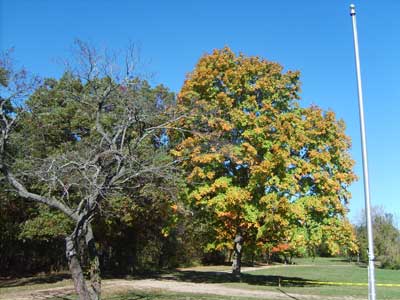 The History of Echo Bluff is a lively and varied one. Echo Bluff lies on the grounds of what was once a booming mining town named Loceyville (founded in 1877) and later renamed Marquette. Loceyville/Marquette was really a "Mine Camp" and the owners of the mining companies built stores, taverns, and a school for the exclusive use of their employees. Row Houses were built and the population reached 2000 during the town's peak.
After the mines failed, Marquette had few townsfolk. The schoolhouse, the two towns only remaining structure, held classes until the 1950's. A 1914 a fire of "suspicious" nature destroyed most of the buildings. With no hopes for a mine to reopen and no other means of work, the few village residents who remained voted to dissolved the village government in 1916. The only remaining building of the two communities is the school house which held classes until 1950's. The school house has been partially renovated by Hall Township for educational programs and rentals by the public.
The Girl Scouts of American were given free use of the land in 1953 and with the help of the Illinois Valley Garden Club planted numerous native plants, undertook a series of erosion control measures and created trails and camping areas.
When the Girls Scouts of American ceased using the land it reverted to a trust overseen by Hometown Bank, Hometown Bank offered the bank to any community or township who might undertake the renovation and provide youth programming. Hall Township, under the direction of Supervisor Marty Fiocchi, agreed to do this. With the help of the University of Illinois and Project Success of Eastern Bureau County, Inc, an OSLAD grant was written. The IDNR awarded $400,000 to Hall Township in 2007.
The vision of Hall Township is being carried out by a dedicated camp director and staff, with the support of Hall Twp. Supervisor and Township trustees.
We hope that everyone will "Share the Dream" of Hall Township -a beautiful park full of the wonders of nature, family activities, and a place to make memories for all who visit.